New ICQ provides end-to-end encryption for all calls.
Voice and video calls are encrypted using the strong algorithm thanks to the new VoIP engine featured in the new ICQ versions for Android, iOS, and Windows. All communications remain strictly confidential: all calls will be encrypted by default without any additional settings.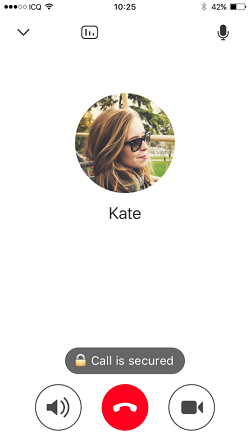 The encryption is based on the open ZRTP protocol ensuring maximum data protection and secure key exchange. Neither ICQ servers nor the provider will be able to decrypt the calls.
New ICQ versions are available for all countries on Google Play and App Store, as well as at icq.com.
ICQ is a multiplatform messenger developed by Mail.Ru Group: ICQ.
ICQ offers full range of capabilities including text, voice and video communication, conferencing, file exchange, free SMS service, online games, notifications, and more. ICQ is available for Windows and OS X, as well as for the most popular mobile platforms (iOS, Android, Windows Phone, Samsung bada, Symbian, Java, BlackBerry). ICQ has a monthly audience of 11 million users worldwide.