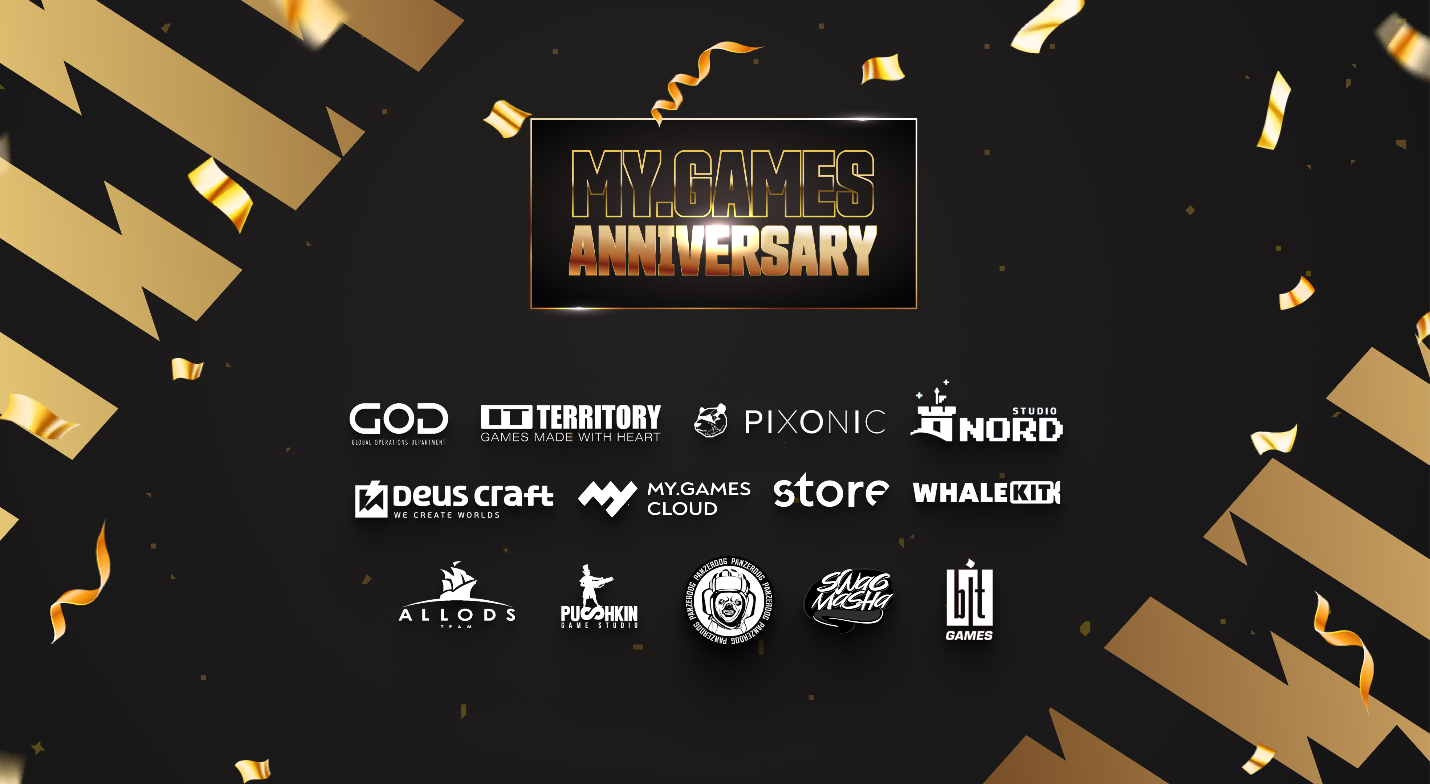 Mail.ru Group has a long history of operating an online games business (since 2006), but with the international MY.GAMES brand, which consolidates all the Group's gaming projects celebrating its second anniversary this month, which we would like to use to make some highlights around some of the recent MY.GAMES achievements.
MY.GAMES team has significantly added employees in the past year, with 1,800+ of total staff as of May located across 12 offices worldwide: Russia (Moscow, St. Petersburg, Voronezh, Kaliningrad, Penza, Novosibirsk), Europe (Amsterdam, Limassol, Minsk), United States (Los Angeles), Asia (Seoul, Shenzhen). MY.GAMES has above 80 active games in operations vs. 50 active games 2 years ago, with 9 new titles added in 2020, including 7 within mobile. MY.GAMES was the main driver of Mail.ru Group being among Top-5 mobile apps publishers with headquarters in EMEA by overall revenue in 2020, according to App Annie ranking.
As the success of any gaming business significantly depends on talent and creativity, MY.GAMES strives to build the work with the studios in such a way as to preserve their own culture and unique strategies. MY.GAMES controls 13 studios, providing them access to its resources such as marketing/PR, analytics, technologies, relations with the key market players, HR/legal/finance services among others, while allowing them to fully focus on development of new titles across platforms and markets.
Constant diversification and expansion of games portfolio helps MY.GAMES to decrease dependence on the success of individual titles, as reflected in the declining concentration of MY.GAMES revenue during recent years. Revenue of the top-10 games accounted for 79% of MY.GAMES revenue in 2020 vs 88% in 2017, and in Q1 2021 revenue share of top-10 games decreased to 78% vs 81% in Q1 2020.
Concentration of MY.GAMES revenue among titles*
| | | | | | | | |
| --- | --- | --- | --- | --- | --- | --- | --- |
| | 2017 | 2018 | 2019 | 2020 | | Q1 2020 | Q1 2021 |
| Top 5 | 73% | 75% | 70% | 64% | | 69% | 60% |
| Top 10 | 88% | 87% | 82% | 79% | | 81% | 78% |
Source: Internal data
*- Historical annual numbers are shown on the basis of pro -forma data, while Q1 2021 and Q1 2020 numbers are shown excluding pro -forma
While MY.GAMES is active in publishing licensed IPs, it is first of all focused on development of own IPs. As result, the share of revenue (on pro-forma basis) coming from licensed IP shrank from ~20% in 2017 to less than 10% in 2020. In Q1 2021 own IP accounted for 93% of MY.GAMES revenue.
MY.GAMES revenue predominantly comes from own IPs*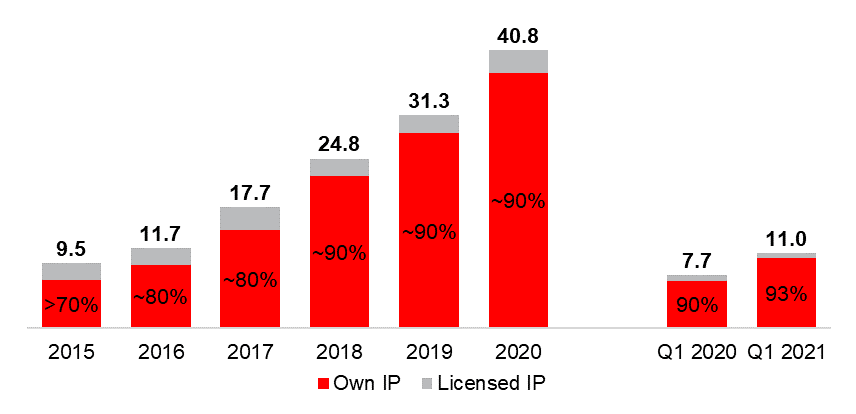 Source: Internal data
*- Historical annual numbers are shown on the basis of pro -forma data, while Q1 2021 and Q1 2020 numbers are shown excluding pro -forma
Among the top MY.GAMES titles, War Robots, developed by Pixonic studio and having celebrated its 7-year anniversary in April, remained the largest title in terms of revenue as of Q1 2021. In March War Robots crossed USD 500 mn in lifetime gross revenue across all platforms with 191mn downloads. War Robots is also delivering high margins, which evolved from 9% in 2016 to 49% in 2020 (ex corporate allocations).
War Robots revenue and EBITDA margin (before corporate allocations)
Source: Internal data
We also want to highlight one of the most recent launches, Rush Royale (released in December 2020). Development of the title was quite challenging: it was developed by a small team within the internal IT Territory studio in a fully remote-work regime, with upfront development cost limited to ~$300k. Nevertheless, the title has become our most successful launch based on its initial post launch performance, with cumulative revenues from the title surpassing RUB1bn already in April.
Rush Royale revenue and MAU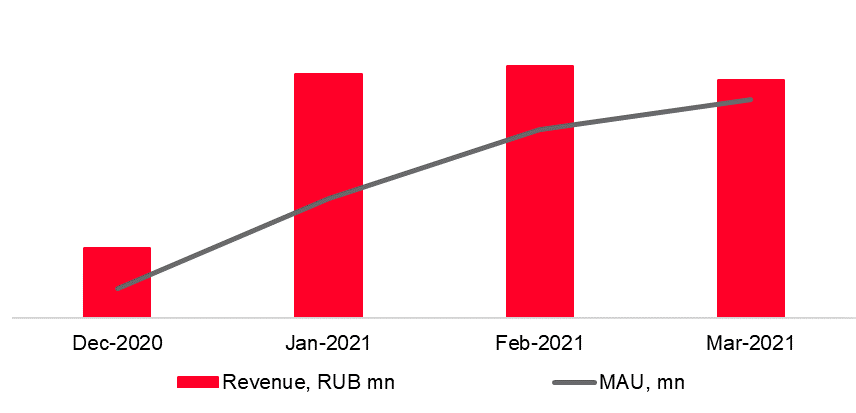 Source: Internal data
The launch of MY.GAMES brand followed rapid international growth of Mail.ru Group's games division, which continues. A share of international revenue of the Games segment has increased from 52% in 2017 to 69% in 2019 and 75% in 2020 on pro-forma basis and reached 79% in Q1 2021, very close to the set target of 80% share of international revenue to be reached by 2022. The US, Germany and UK are the largest markets for MY.GAMES outside Russia and CIS.
MY.GAMES is a cross-platform games business, but its strategy over the past 5 years assumed more active focus on the mobile segment, which continues to gain share on the global gaming market and is set to capture 52% of the global market in 2021, according to Newzoo forecast. Mobile held 78% share of MY.GAMES in Q1 2021 vs. 68% in 2019 and 38% in 2017 (on pro-forma basis).
MY.GAMES M&A activity is an important instrument to acquire valuable talent, expertise and IP and discover new niches, genres, markets and technologies. The MGVC, MY.GAMES Venture Capital fund, was launched in 2017, having concluded dozens of deals since. Current fund's portfolio includes 40+ studios (vs. 14 studios 2 years ago) with a path to control in most. In 2020, MGVC helped 12 studios with investments and consolidated 2 studios - BeIngame and Deus Craft. Since then, BeIngame's quarterly revenue grew 1.9x, and Deus Craft's quarterly revenue increased 1.3x, with the 2 studios' games Zero City and Grand Hotel Mania having entered the list of top-10 titles in the MY.GAMES portfolio. In February 2021 MGVC entered the international top-10 global gaming venture funds list, according to Games One rating.
As part of its evolution into a fully-fledged global games ecosystem, MY.GAMES team has been developing several products adjacent to its core game development and publishing business:
MY.GAMES Store, international games platform, where developers and publishers are able to distribute free-to-play and premium games, while gamers can get access to a wide range of PC titles. 500 games are already available for MY.GAMES Store users.

In December 2019, MY.GAMES launched its international games platform MY.GAMES Store in open beta-test mode.
At the beginning of COVID-19 pandemic MY.GAMES Store expanded its functionality - added multi-profile accounts, stream gameplay, own messenger.
In June 2020, MY.GAMES announced a new commission plan for developers via the MY.GAMES Store platform by offering a revenue split of 90/10, where 90% of the revenue goes to the developer and 10% to the platform.
In January 2021, the MY.GAMES Store launched PC versions of the mobile games War Robots, World Above, Left to Survive and Guild of Heroes to expand the platforms and attract new audiences.
In April 2021, MY.GAMES Store became available on MAC OS
In May 2021, MY.GAMES Store presented MY.GAMES Boost - a crowdfunding service based on Boosty.to, allowing content creators to receive donations for their work
In December 2020, MY.GAMES Store soft launched MY.GAMES App

MY.GAMES Cloud, cloud gaming service. The service is integrated into MY.GAMES Store and allows users to play the most graphically demanding PC games on any laptop or PC via our cloud streaming service. 300 games are already available for MY.GAMES Cloud users.

In November 2020, MY.GAMES launched a public beta version of MY.GAMES Cloud. During the beta test the service is available in selected locations in Russia. MY.GAMES Cloud reached 100k MAU in 3 months of beta testing without active marketing promotion, exceeding internal forecasts 10 times over.
In April 2021, MY.GAMES announced a major update and new tariffs for MY.GAMES Cloud. Users are able to enjoy games in 4K and 120 FPS.
In April 2021, MY.GAMES Cloud became available on MAC OS.

DonationAlerts, all-in-one streamers' tool launched in 2015, is expanding its functionality: in April 2021, it completed beta testing and started selling inventory via its advertising platform (allows to place different ad formats inside streaming content). In Q1 2021 DonationAlerts revenue doubled YoY (driven by 25% YoY increase of average check and 37% YoY growth in unique paying users), while the number of active streamers was 32.7% higher than a year ago.
Boosty.to, a content monetization tool launched in 2019, is also in active stage of development. In Q1 2021 it showed 12x YoY growth of active blogs and 6x YoY increase of turnover.
MY.GAMES Store main page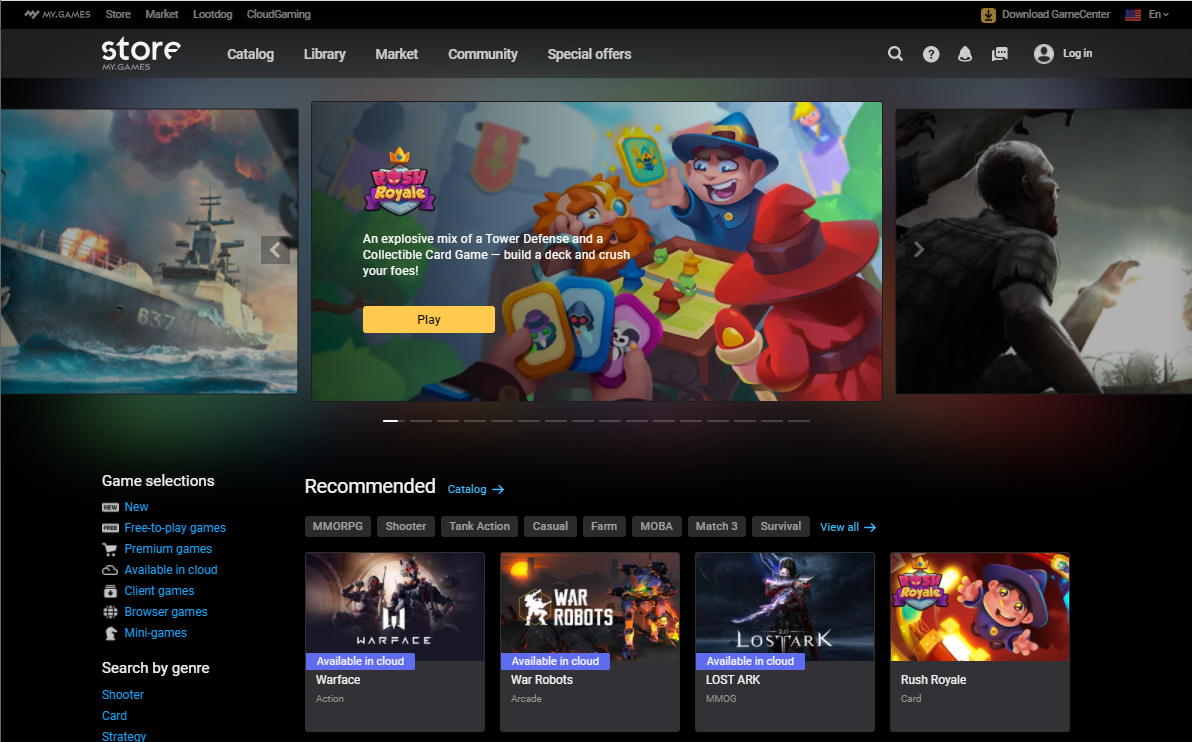 What's next?
MY.GAMES is already among the top-50 gaming companies globally with revenue approaching USD 550mn in 2020 and with the goal of reaching the top-25 position globally in the mid-term. The company's strategy is focused on building a diversified portfolio of gaming products and services across platforms with active new product line-up and focus on own IP (>90% of revenues), unified under MY.GAMES brand. The company aims to continue to strengthen its portfolio and secure a cashflow via creation of long-lasting and high quality gaming franchises organically as well as via value-accretive M&A. At the same time, MY.GAMES team is carrying out constant experiments and innovations and will continue launching new solutions and products relevant to the games audience globally, but with both, revenue and EBITDA in focus, given the guidance of RUB10bn in EBITDA in 2022.